Global Web Builders
Australian Cyber Station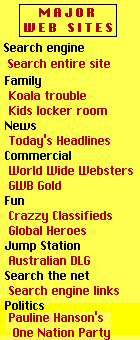 In June 1995 Australia's largest web site was born. Today it is an enormously popular boutique web site.
This is the home page - Global Web Builder's Australian Cyber Station. To access one of GWB's major web sites simply click on the image to the left.
Some facts about the links to this page:

GWB's web sites carry over 50 megabytes of content.
there are over 10,000 web pages - largely Australian oriented.
over 6 million people have visited them since June 1995.
there are no adult sites or links on the GWB web site.
Search engine:
The GWB text based Search Engine provides instant access to related information.

For the family:
The family oriented Koala trouble by 5 year old Alex Balson won the inaugural 1996 Australian Financial Review/Telstra award for the best web site for children under 15 in Australia. Over 130,000 people have visited this web. The Kids locker room has links to hundreds

© Global Web Builders, 1995, 1996.
---